All pups are listed on the Featured Puppy page once they are born. 
We are ALWAYS looking for Guardian Homes for our future parents. More information on that can be found on the Guardian Tab along with information on those looking for Guardian homes and those currently residing in Guardian homes. 
. 
Call name : Teegan
Teegan is a small standard size AKC registered Poodle that is part of our guardian home program. He is currently is loving life with his Guardian Family in Fremont county. 
Teegan has passed his genetic screenings for his CAER Eyes, Pawprint , and Pennhip. 
He and Gwen have given us a beautiful litter of F1b labradoodles. Check them out on our Featured Puppies Page. Updates are done every 2weeks.
Teagen is working toward his CGC test . I hear he is having grand adventures hiking with his family.
Call name: Carson 
  AKC Miniature Poodle. He weighs in at 14# and 14″.
He has a fabulous personality as he is calm, affectionate, easy to train, intuitive, and intelligent. Love his handsome face and great structure! !  He is just over  2 years old and has completed his genetic testing with Pennhip and Pawprint.
We  pair Carson with our English cocker Spaniel Gema and Lulu for amazing  F1 English Cockapoos. Bella is the daghter of Carson and Gema.
 You can see pictures of his daughter Bella on the Featured Puppy page slideshow or Guardian Page.
Carson is clear for Prcd, OCD, GM2, and vWD. He is a carrier for DM is current with his CAER and Pennhip.
Noheas Little Lulu
Sire :GCH. CH. NOHEA MYSTERY OF THE PROPHET ( LVR & TN)
Dam :CH NOHEA EDEN HILLS BLACK TULIP ( BLK
28 # 14in. at the withers
OFA hips/elbows Good
FN normal
Prcd/ PRA carrier
AN- Carrier
 Lulu with her glorious natural Tail!! We Love the sound that tail makes "Thump thump thump thump THUMP" what a wonderful sound to wake to every morning! Lulu is never happier than when she has 4 wheels under her whether it be Tractor, Truck or car, or 4-wheeler and her Pappa!!
Her last litter is Winter 2018. Potentially with miniature poodle Carson.
Spindrift's Bear Creek Smudge
Sire: AM/MEX/Int CH. Spindrift's Anchors Away
Dam: Spindrift's Sirens Song
Home bred by H&HRCC he has produced beautiful Blue Roans and Partis. We will retire him in  2019.
Bear Creek's Smudge is Bench Bred and He is such a sweet boy! He has brought good health and sweet temperament to his offspring. He enjoys hanging with the crowd and movie night.
FN Normal
Prcd-PRA clear
AN -clear
OFA hips & Elbows GOOD
CAER normal
Huiterty Crusaders Embedded Jewell 
Sire: Spindrifts Bear Creek  Smudge
Dam: Noheas Lil Lulu
Meet Jewell A pup from Lulu and Smudge!!!!  Our keeper from our Puzzle pieces litter. Jewell is a Blue Roan
Jewell is clear for Prcd-PRA, FN, and AN. She has passed her recent CAER eye screening as well as,  her Pennhip & OFA prelims. 
 .
HUITERTY TEXAS CREEK GEMA
Sire : Rich and Rosies Paeden
Dam: Spindrift's Karma Huiterty
Bred by H&HRCC
Our sweet Gema. Princess Eyelashes!
Gema is the perfect balance between field and bench. She has the beauty and structure of the bench, ( off switch = love sponge ) and the love of the outdoors a beautiful bench coat. She is happy to be with us no matter WHAT we are doing!
Watch for Gema and Carson next litter in early October 2018! A repeat performance worthy of a standing ovation! 
FN NORMAL
PRCD CLEAR
AN CLEAR
PRELIM HIPS GOOD
ELBOWS NORMAL
CAER Normal
Gwen : F1 Labradoodle
Gwen is two and a half years old. ! Gwen's parents are Rusty and Nelle Belle 2 of our retired breeders. Gwen has completed her Canine Good Citizen. She is a sweet affectionate lady that loves to run and hike with her Guardian family. She has a gorgeous Fox Red color and a slight build at only 40lbs. She has a beautiful wavy low-shed coat. She passed her Pennhip in the 90th percentile.
Gwen and our small standard Teegan have created a beautiful litter of F1b Labradoodles. We anticipate them to be between 30-4. # at adulthood with low shed coats. 
We are accepting applications and holding fees at this time. 
Gwen and Carson both live in guardian homes in Fremont county .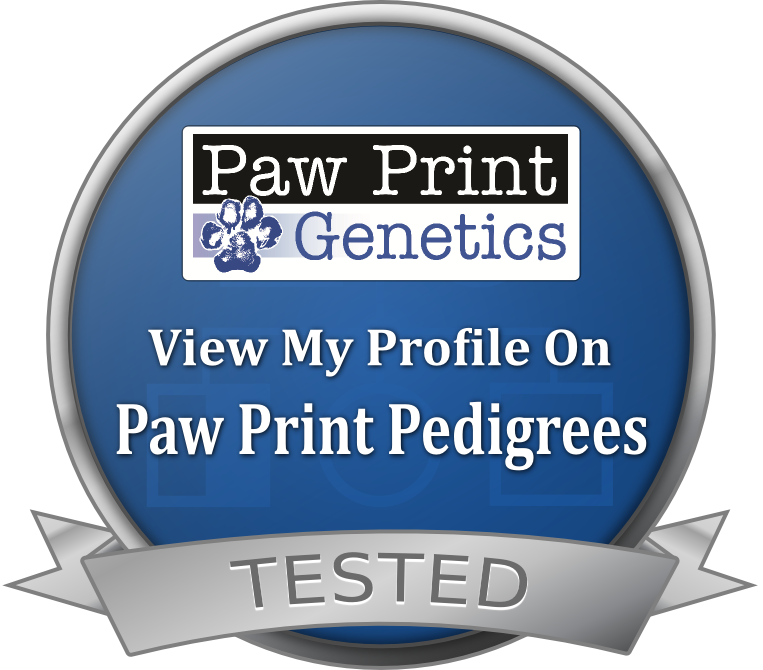 CAER- Normal
Pennhip- 90th Percentile
Pawprint Labradoodle- clear
H & H Red Canon Tatums Tuesday
Call name : Cherry
Cherry is an F1 Labradoodle that is part of our guardian home program. She is from Ruby and Rusty Reindeer games litter. She currently is living with her Guardian Family in Denver.
Cherry has completed her basic obedience class with us. Her guardian Family is continuing on with her Training and is to obtain her CGC by a year old.
Cherry has completed her initial health testing with Pawprint with flying colors. Upon receiving her CGC certificate we will schedule her OFA hip, elbow screening and begin planning her first litter with Teegan ( MM Blazing Garnet Huiterty)